Getting Help When Stuck Off-Road
Life is an adventure, but always a fun one. When going off-road you have to think about how much work and risk you are willing to take to for an adventure. The best way to enjoy a day off roading is to be prepared and do not over estimate your skills or equipment.
The number one reason people get in trouble off-roading is thinking they can go anywhere and not thinking about "what if". What if I drive into this mud hole without knowing how deep it is, if there is debris in it and without proper recovery gear? All of these scenarios have big consequences. The images on this page show people who think they were driving a Sherp ATV, not a regular 4×4.
Think about what is involved in recovering a vehicle in the middle of a Florida or Georgia swamp. The nearest road may be miles away and cellular service non-existent. Sounds like an adventure, right? Maybe.
The same scenario could include excessive heat and humidity, thousands of blood-thirsty mosquitos and water in the cab of your vehicle. You then have to walk miles on slippery rutted roads for hours just to try to find someone late a night to pull you out. Don't forget your cell phone is likely to die so hitchhiking might be required.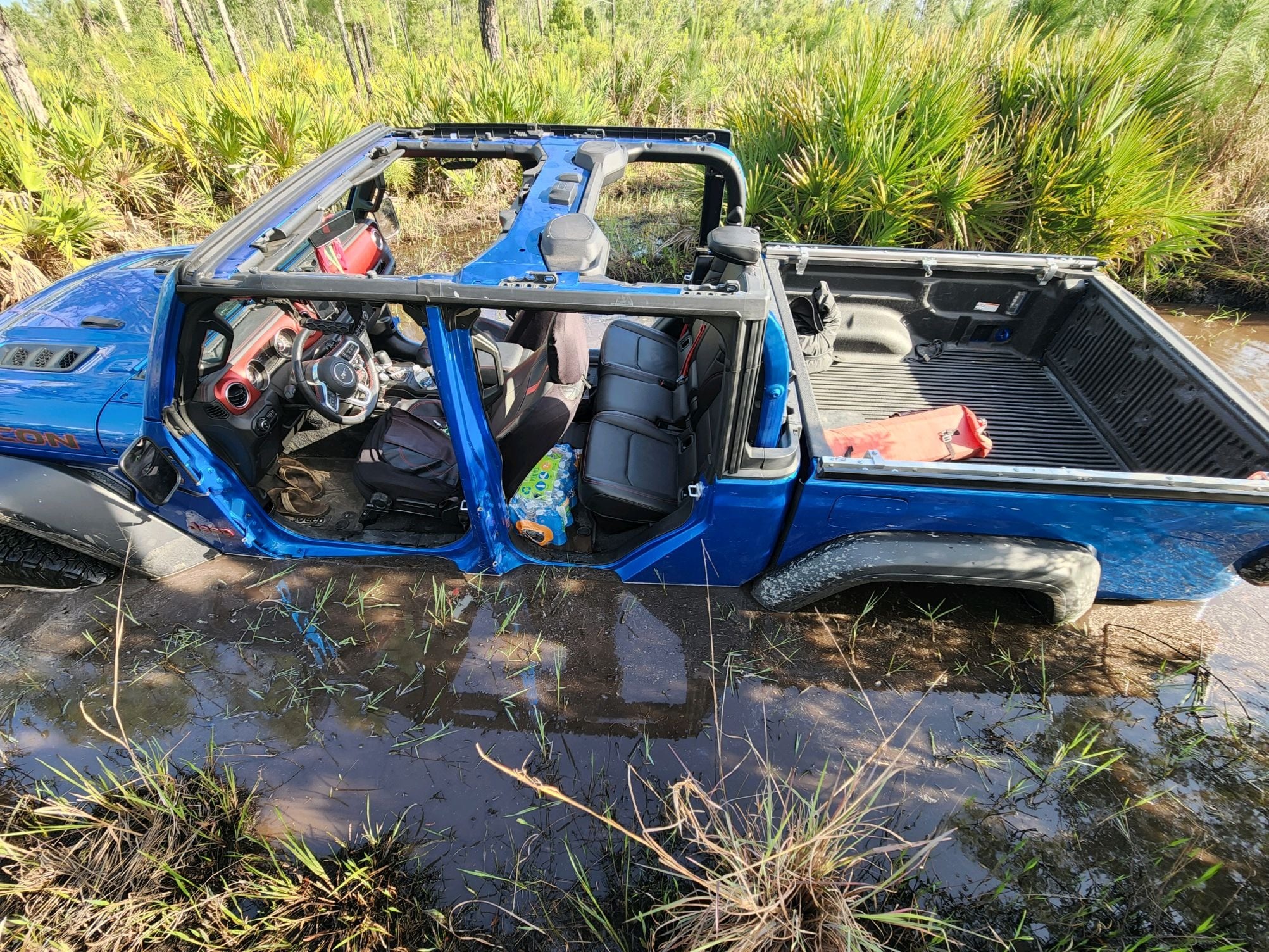 Avoiding Off-Road Headaches
Utilize the PubSafe app to share your location with family, friends and nearby off-road enthusiasts. If you need help, post to the app and others nearby will be alerted (if in cell coverage). Call 911 if an emergency.
Travel in pairs
Only enter a boggy area one vehicle at a time
Walk the bog before risking your vehicle getting stuck for hours
Carry and know how to use the off-road recovery gear
Have multiple winches, like the Sherpa 4×4, to expedite difficult recoveries
Carry food and water for 1-2 days
Don't overestimate the capability of your vehicle or skills to do a self-recovery
Join a Facebook group
Get the PubSafe Mobile App
Getting Help Off-Road Efficiently with PubSafe
1. Click on the help or assistance icon on the map or on the bottom menu and navigation to Vehicle Issue>Tow or Stuck
2. Wait for a PubSafe user nearby to contact you or start chatting nearby users requesting assistance. They will be able to see your location on the map. If you include images, they will understand the nature of your situation.