PubSafe™ for Organizations
The web portal is for NGOs, FBOs, CERTs, governments and corporations to organize, administer, communicate, and track their members globally using the PubSafe™ SOS mobile app and web portal.
PubSafe Features:
Only $99 per year, per organization

!
$5/monthly for the PubSafe™ Pro app.
Pay monthly for the app, not annually.
No long-term contracts, cancel anytime.
Dispatch members to help requests
Weather radar and iPAWs/USGS/NWS alerts keeps workers save in USA & Canada.
Contact Manager – No more online spreadsheets!
Touchless volunteer registration.
Track volunteer hours for funding.
Impromptu search parties with tracking.
Global messaging to all org members.
Government accounts can send mass notifications to 1000's PubSafe users in just seconds in advance of an emergency such as a tornado, wildfire, flash flood, or tsunami.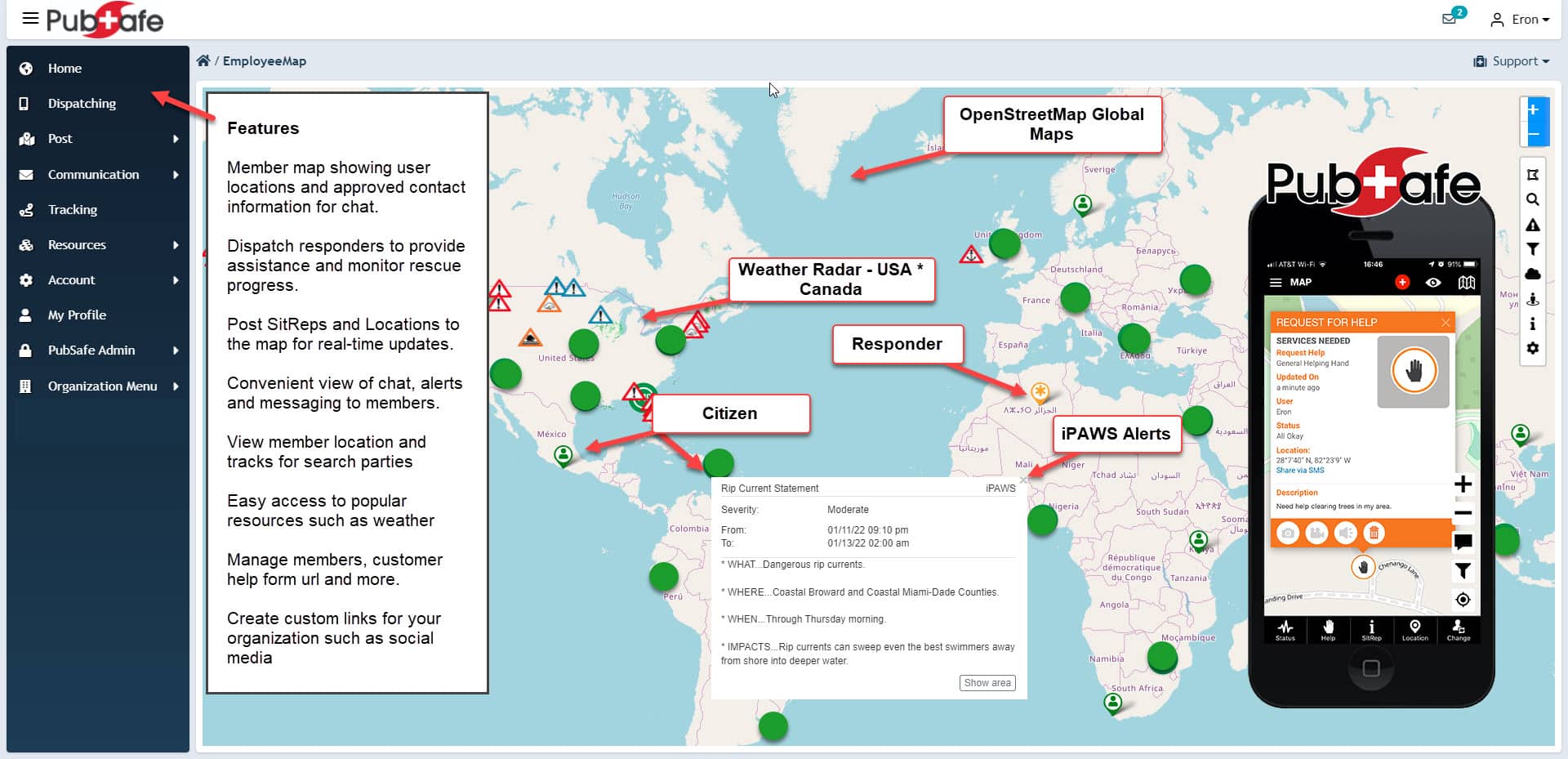 Once your organization is approved, you will use the web portal to invite members to join. All users must have the PubSafe mobile app, and org members must subscribe to the Pro level service. Orgs only pay a small annual fee because org members fund access with their PubSafe mobile app service.
How PubSafe Works
PubSafe™ consists of two parts, the mobile app, and the web portal. All users must have the mobile app.
The version of the mobile app determines what you can access in the portal. Example: You must have the Pro, or higher, version of the app to join an organization. App versions include Free, Base, Plus, Pro, Enterprise, and Government. Each version provides additional features.
For example NGOs can message org members but government organizations can message any PubSafe member.
Getting Approved and Listed
PubSafe screens organizations based on the factors listed. PubSafe™ is intended for governments, proven NGOs, faith-based organizations, and organized volunteer groups. Impromptu, or new organizations, may not be accepted until experience and professionalism are demonstrated.
Approval Requirements
Peer-recognized NGO related to relief aid, search and rescue, or volunteer organization with 5+ members (PubSafe can be used without the portal with Teams, chat and other functionality)
Registered entity for 6+ months or be a FEMA, SERT, FBO or CERT equivalent qualified organization
Most democratic government agencies
Positive online presence for 6+ months (social media presence required)