Mobile + Web Portal
Collecting & Sharing Data At the Speed of Life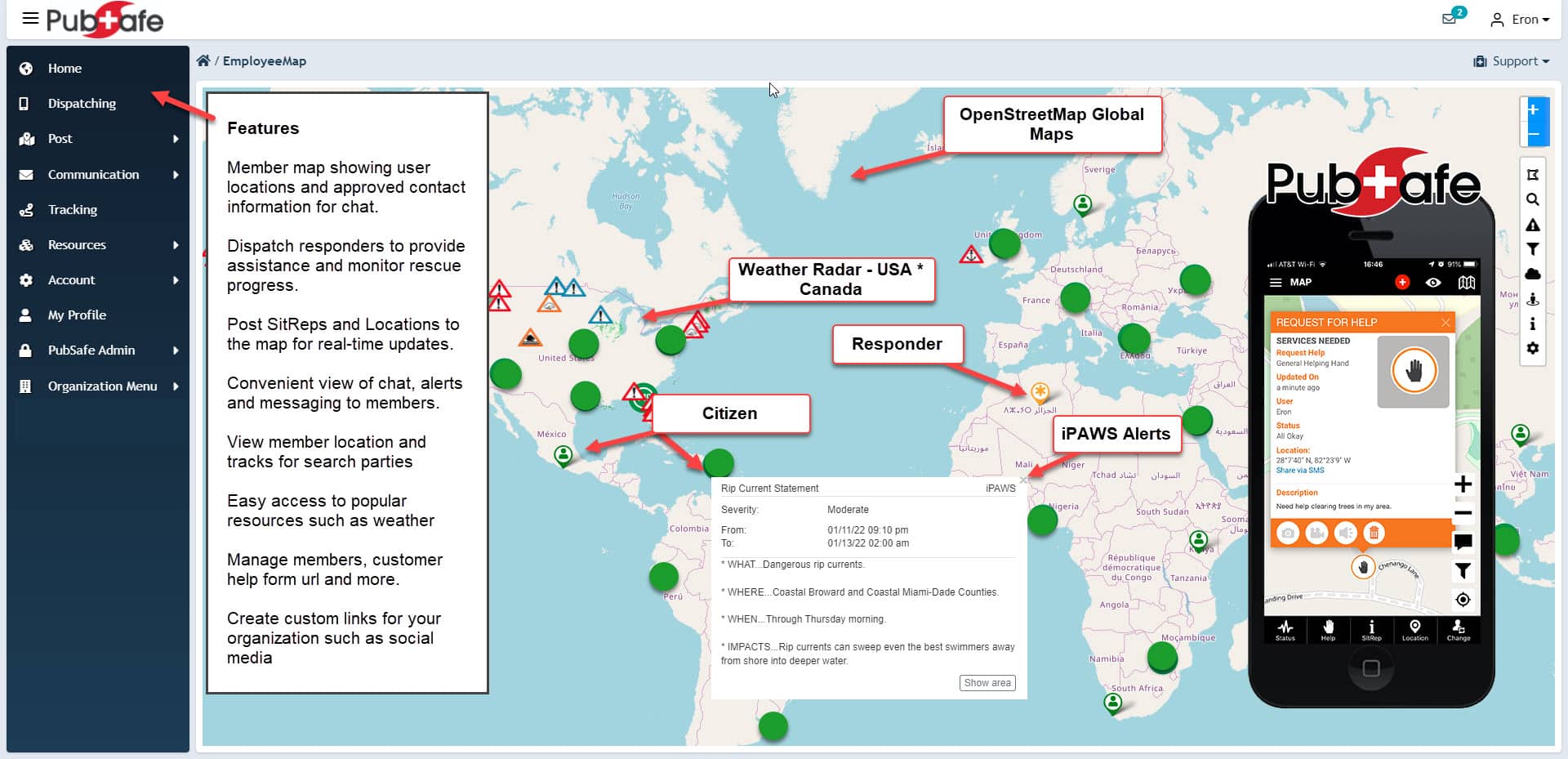 General Functionality
Basic help and community information sharing is available for free. Just install the PubSafe mobile app and start helping those around you or get help from other members if you are experiencing trouble. Ask for help for routine issues such as a dead battery, clothing, or when disaster strikes. Choose a plan that is right for your community, you or your organization's needs. Alerts and information provided is from other users, not government agencies.
Always call 911 or local emergency services first for emergencies. Travel, operate and provide assistance in pairs, to improve individual safety. Be sure your profile does not indicate your gender, age or other information. Not all features listed below may be available today but are on the development roadmap. *Limited access.
Note: Functionality will vary between Android and iOS. 
Subscription Fee

Billing Frequency
Routine Assistance Request
Priority Assistance Request
My Status
SitRep posts
Location posts
Join Search Party
View Other Users In App
Active Shooter (Android)
Use Quick Post
Select Event
Access Help & Training
Citizen Status
Responder Status
Initial Damage Assessment
Volunteer Hours
1-to-1 Chat
Receive Messages
Reply to Messages
FEMA, iPAWs Alerts
OSH, USGS, Weather Alerts
Priority Help Alert (Android)
Invisible (hide from map)
Public Map
PubSafe Member Map
Portal Map – Weather Radar
Join Organization

Team, Create & Join

Team Members Allowed
Mass Message Limit
Message Any PubSafe User
Be Dispatched on Mission

Access Contact Manager

API Data Access
$0.00
NA
Yes
Yes
Yes
Yes
No
No
Yes
Yes
Yes
Yes
Yes
Yes
No
Unverified
No
Yes
Yes
No
Yes
Yes
Yes
Yes
Yes
No
No
No
0
0

NA

No
No
No
No
$.99

Yearly
Yes
Yes
Yes
Yes
Yes
No
Yes
Yes
Yes
Yes
Yes
Yes
No
Unverified
No

Yes

Yes
No
Yes
Yes
Yes
Yes
Yes
Yes
No
No
2

5

NA
NA
No
No
No
$1.99

Monthly
Yes
Yes
Yes
Yes
Yes
Yes
Yes
Yes
Yes
Yes
Yes
Yes
Yes
Unverified
Yes
Yes
Yes
Yes
Yes
Yes
Yes
Yes
Yes
Yes
Yes
No

5

50
NA
No
Yes
No
No
Monthly
Yes
Yes
Yes
Yes
Yes
Yes
Yes
Yes
Yes
Yes
Yes
Yes
Yes

Yes, Verified

Yes
Yes
Yes
Yes
Yes
Yes
Yes
Yes
Yes
Yes

Yes

Yes
Yes, multiple
7
30,000
Yes
Yes
No

$4.99
$8.95

Monthly
Yes
Yes
Yes
Yes
Yes
Yes
Yes
Yes
Yes
Yes
Yes
Yes
Yes
Yes, Verified
Yes
Yes
Yes
Yes
Yes
Yes
Yes
Yes
No
Yes
Yes
Yes, multiple
10
TBD
Yes
Yes*
Yes
Yes
Yes, Limited